Maria recently did an interview for The Guardian. It features as part of a beautifully written piece by Ben Walters. We're really excited to see the other films mentioned live on the Edinburgh stage.
---
This article titled "Jurassic lark: Hollywood blockbusters retold at the Edinburgh fringe" was written by Ben Walters, for The Guardian on Thursday 16th July 2015 10.30 UTC
When popular movies are adapted for the stage, eyes tend to roll in anticipation of cynical exploitation. Yet several shows at this year's Edinburgh festival suggest something more creative – namely, that Hollywood blockbusters can be treated as latterday folk tales.
Films including Jurassic Park, Back to the Future and Terminator 2 have inspired fringe shows that don't just indulge nostalgia but take it as their subject, exploring how, as the years pass, the emotional resonance of iconic blockbusters can shift and deepen in strange and poignant ways. They also strive, endearingly, after big-screen thrills on a Blue Peter budget.
Superbolt – AKA Maria Askew, Frode Gjerløw and Simon Maeder – have already earned plaudits for their gleefully goofy take on Jurassic Park. The company's version of the story is set in Lyme Regis, where Terry and his teenage children, Noah and Jade, welcome us to a screening of the Spielberg dinofest in honour of the kids' late paleontologist mother – before a technical hitch obliges them to act the movie out themselves using whatever is to hand, from backpacks to umbrellas. It's huge fun, yet we're constantly aware of the film's function as a sticking plaster over this family's festering dysfunction.
For the Jacques Lecoq-trained company, the project promised a technical challenge and rich emotional terrain, as well as a new crowd. "There's something inherently pleasurable about seeing moments of a familiar film captured in a surprising new way," says Askew. "We've been taken aback by the level of enthusiasm and support the show has received. The widespread appeal of the film has enabled us to reach a non-traditional theatre audience."
The company's original story taps into widespread cultural changes, too. "These mainstream classics brought families of all kinds together, which seems to be happening a bit less today as we consume entertainment more individually," says Askew. "This is why the theatre is so vital. It brings people into a physical space to share in something."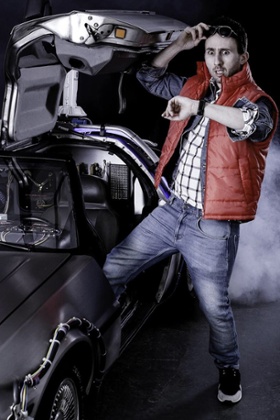 That idea is at the heart of Andy Roberts' new show, Now Listen to Me Very Carefully, in which he recruits audience members to help him remake Terminator 2: Judgment Day – a film with which Roberts was obsessed growing up. He has found he's far from alone in this, and his Arts Council-funded show, on whose development his parents and four-year-old niece collaborated, gives others permission to unleash their inner T-1000.
"By using the whole audience in the round, we found it a lot easier for people to jump in and out of the action without too much pressure," he says. "The big-budget nature of the film never fazed me because it's never been about a direct recreation. It's about finding our version on the night."
The show is "a kind of sequel" to Roberts' last show, Predator, which was inspired by his childhood attempt to recreate the Schwarzenegger movie with his older brother; this was another big-budget movie with a special place in a family's life. Two decades on, Roberts got audience members to help him finish the job: "I found people with a personal connection to the source material would throw themselves into it with incredible passion and humour."
Of course, this personal connection with the original movie is the reason audiences come to such productions. Nathan Cassidy has created three comedy shows based on the Back to the Future trilogy, and has found it vital to balance references and props that delight the true believers with more widely resonant material, inspired tangentially by the movies, about the passage of time and the challenges of ageing. "It's almost like doing a kids' show with jokes for the adults, too," Cassidy says. "In my second show, I made a joke about there being less references to the film and there was audible disappointment."
It's a tricky balancing act: you don't want to disappoint those who show up because of their affection for the original material but, as an artist, you want to put your own stamp on it. For Cassidy, the Back to the Future films evoke not only flying cars and hoverboards but ideas about different stages of life, expectations and disappointments, even, given Michael J Fox's diagnosis with Parkinson's disease, illness and death.
In a sense, all of these shows are about time travel: the difference between then and now, in terms of the emotions of individuals and families, and in terms of culture itself. When these blockbusters came out, says Cassidy, "we had less technology and more interaction. We've lost a sense of togetherness." These shows try to restore a little bit of it – by reanimating the dinosaurs, robots and time machines of days gone by.
• Jurassic Park is at the Assembly Roxy, 5-30 August. Now Listen to Me Very Carefully is at the Pleasance Courtyard, 5-31 August. Nathan Cassidy: Back to the Future is at the Laughing Horse @ The Free Sisters, 6-29 August.
guardian.co.uk © Guardian News & Media Limited 2010
Published via the Guardian News Feed plugin for WordPress.